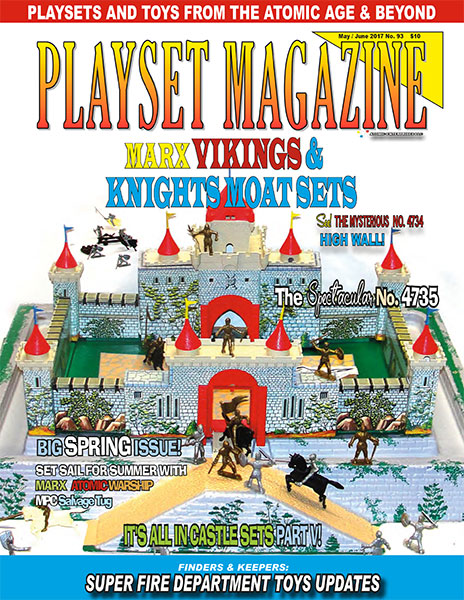 Our official "Countdown" to Issue 100 continues with this 93rd issue of Playset Magazine, serving America's plastics and playset collectors now for over 15 years! This issue brings us to another great "Finale" of an extended series of feature stories wrapping up one of the greatest lines of all the Marx playsets, the castles.

Within these walls – err, pages – you'll explore the richness and color of advance medieval ages of Marx. The Vikings are sieging your walls in incredibly detailed poses, the work of Bill Lemon. The knights for 1964 are gold, glittering metallic unlike any color Marx had released prior. Apparently, the designers yearned for something new before the release of their Second Series Knights in shiny silver. And the castles are elevated far above the play floor on gigantic moats, and the drawbridges span real moats!

It is truly a time of wonders for the small fry king, and it is brought to you through the efforts of Kent Sprecher, long time PM contributor, and Clark Haberman in his second appearance. These two have battled the void of time to fully explore the surprisingly complex changes in the Marx castles for us from 1963 – 1975, which means this is a very detailed article complete with not one but two charts! It is a wonder for the avid collector's information shelves.
Being a responsible publisher, maybe I should warn you to bring a magnifying glass (why not, Louis Marx used one at his desk!) for some of the details on one chart got pretty small. We apologize in advance to those of you who are visually challenged. The other is a colorful timeline excursion that carries the castle theme visually all the way from the Medieval Castle Forts we covered in the Prince Valiant issue up to this issue's very spectacular Vikings & Knights set.

This is the epic Castle wrap-up folks, and we have so many fine collectors to thank. Rick Eber's sets are in these issues, George Kroll, Mark Hegeman, the Clark/Kent team that picked it up for us from the 60's onward and saw it through for you, and I think Jim McGough has helped, and probably many others. And because this has been a year – long effort on the part of these guys (we started getting our first drafts for this story back in August of 2014, folks!) I hope you will mentally give them a very big hand. I know this has never been done before in such depth and we can rightly and proudly call this the very definitive article on the theme.

Also this issue, there's a big new update for you on the carry-over theme from PM92, the Fire Department equipment you'll see this time is glossy and vintage deliciousness, thanks to David Schafer, George Kroll and others.

Because this is also the, we're helping everyone to shove off into this Big Spring Issue with a very cool Marx Atomic Warship in several variations, and we are currently scheduled to have a brief look at Mark Hegeman's MPC Salvage Tug and / or Marx War of 1812 Sailors in 60mm.

Always love those captivating window boxed items that captivated us with colorful package of clever design, and this one has it aplenty even though it couldn't have cost us more than a buck back in the day. And speaking of nifty packages, I don't want to move on from the Fire Engines update without mentioning another cool MPC item this issue in original packing, this from Tim Young's ever-fascinating good taste in vintage, the MPC Steamer fire engine. And it has a great story to go along with it, too!

All in all we think this issue is one for the record books and we hope you agree. It is such a pleasure serving the collector community and having you with us.

Thanks for reading MP!

Rusty Publisher March 8, 2017