This is sad indeed. Ron Angleton, a Marine and father, has passed after an illness at age 69 at home, surrounded by family. Ron was a friend, collaborator and contributor, a real supporter of the hobby; an expert who concentrated for years on the Marx WWII Battlegrounds, especially the "striped" Battleground boxes. But he loved Fort Apache; he found greatness in its gates and adventure in the West. He said his favorite set was the Blockhouse-Over-the-Gate version and he absolutely lit up talking about it; he would became very fired up about Marx playsets and minutia related to them. His wife Gail, with their daughter Robyn, recall his avid reading about WWII, the Civil War and battlefields, and the U.S. Marines of which he was a member.

He helped Playset Magazine often and lives on though in the books he contributed to; magazines he sent photographs in for, and video telling his personal story in the Fort Apache DVD and in The Combat Sets. I'll never forget his pure joy at watching a Marx Exploding Bunker "blow up" triggered by a simple, perfectly set trap mechanism. With all that, he was a good father and loyal husband to his terrific wife, and made his place well.

We each have a legacy in the hobby, and remembering Ron, and others we have lost is part of that. We move on, yes, but part of us always lingers in the past with pour friends. We should also be aware of the dangers out there, currently lurking, making that awareness a part of how we live these days.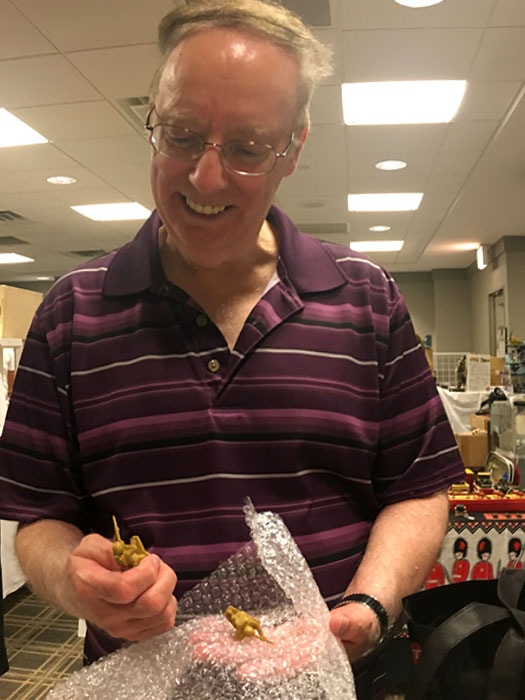 His passing appears to have been a direct impact of the pandemic; each of you I pray will stay healthy, as we mourn the chasm left by one of our own, and take pains to stay healthy, live well, and continue the enjoyment of this great hobby which presented us with such fine spirits as Ron.

As I think of his Marx related passions, I am sad to write of our collective loss, but I want us all to remember how the men of valor, from the Marine Corps to the Lafayette Escadrille took exactly the same kind of loss -- the passing of a valued warrior and a good friend: With a raised glass and with a toast, with the sense of gladness that they had known such a man and been able to keep his company and walk the same earth. Ron can never be replaced; there is no one like him, but his passion, joy, and espirit de corps live on.

Thank you friends,

Rusty & Kath