There is an almost unknown line of playsets --- a subset if you will – that has never before been covered but which, like the words in a crossword or hidden code of a cypher, have been hiding in plain sight. Mysterious, intriguing and plenty of fun, we peel back the pages to a little known educational group dedicated to branding a certain select few toys as "Prestige Toys. " These were toys that apparently had been singled out for exceptional quality, by a clandestine concern called the "Toy Endorsement Council". Who nominated these toys to be singled out as "Educator Approved" and featured in special catalogs is our focus this issue, and why so few were chosen.

Of course this "secret society" is probably not as important as some of the rascally goings-on politically these days, but it is a great opportunity to detail some terrific sets as well as present a highly attractive and unusual set called "Combat Team" in vibrant all-red carton, as well as an unusual accessory which we have never before seen, the Jungle Trading Post by MPC!

Even fewer MPC playsets got the nod… and oddly, none of Marx' that we know of – and among them one (but not all) of the Ramar of the Jungle line. This is one of the early MPC offerings and it is a splendid example of marketing as well, with its beautiful fully-set up displays in a carton which you could, if desired, simply buy, take home, and lift the lid to enjoy as long as you like.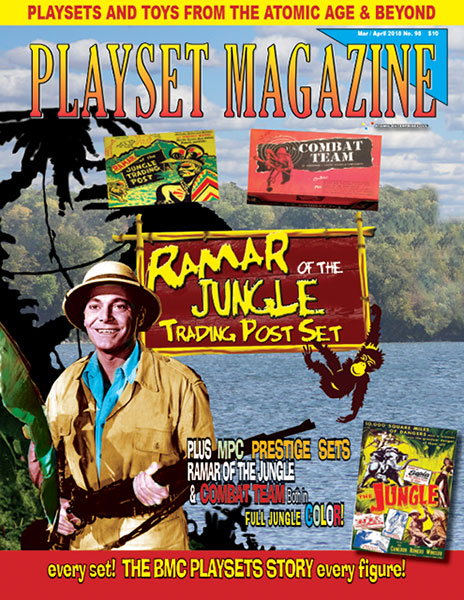 RAMAR OF THE JUNGLE

The set is built around a television series with the great Jon Hall playing Ramar, as doctors were known, in the adventurous jungles and terrain not just of Africa but ranging as far as India. That MPC chose to model its early Jungle playset editions around this show will not be a surprise to many; the show was nicely produced and acted, with lots of scenes of animals and exotic environments. That's Jon on our cover, who gets extra kudos for creating and producing the show. It really is lots of fun and so is the playset, with its sprawling action mounted in such a beautiful retail packaging. We hope you enjoy this feature as much as we did – we just kept adding to it as new sets came to light, and I say that with eyes on Rick Eber and his fabulous Combat Team set which frankly we never knew existed until this very issue. It is an awesome set and one which we know you'll enjoy seeing.