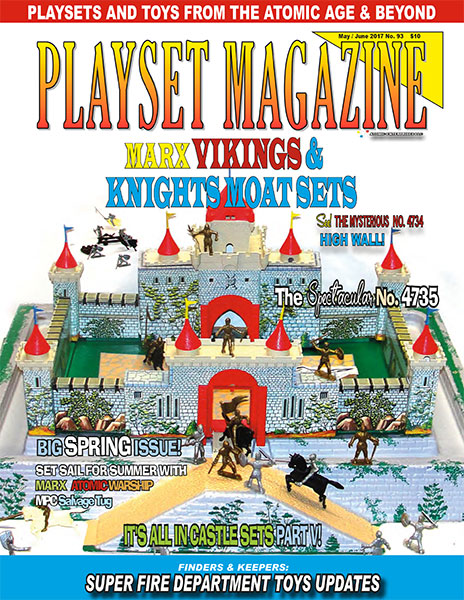 ISSUE 93 NOW SHIPPING!

Boy, wait 'till you get this BIG SPRING INTO SUMMER ISSUE in your hands!

Never before have you had the power to completely understand the entire Marx Castle Story, but now, thanks to the efforts of some very dedicated collectors, the final installment is right in your little pinkies! This is the end of a five part series, already upon us because this time, we wanted to cover every Marx Castle in as short a period as we could and not drag it out. So what began with Prince Valiant and the Medieval Castles in PM87, Richard Greene & 60mm Robin Hoods in PM89, 54mm Robin Hood and High Wall Castles in PM91, now concludes with the spectacular moated sets and walled castles that lasted into the 1970's, all right here in PM93.

I remember doing the Gas Stations that wound up being so prolific I thought they could never end; then Farms, and Civil War, all of which covered many issues themselves, that this time we wanted to hop only one issue with each installment in order to put a neat wrapping on the whole story within the year. And so it is, exactly one year later, done and in! We have a lot of very dedicated folks to thanks, including venerables Rick Eber, George Kroll, David Schafer, Francis and Jason Turner of the Marx Toy Museum, and for taking over with Parts 4 & 5, this issue we again thank that Clark/Kent duo Kent Sprecher and Clark "Billy Hill" Haberman.
I would have to say this installment, with its never-before delineated castles and contents, was to me the most difficult of all the episodes, and we are very glad to have these gentlemen aboard. It wasn't an easy ride, as the first drafts came in a full year ago and were endlessly revised, vetted by collectors and honed into a sleek, readable and enjoyable tour de force.

And wait till you get to the charts these two devised. And better bring your microscope, there a lot of detail on page 23. You wanted castles and by Jove, you got 'em all wrapped up for easy research and contents finding. Thanks guys, and thanks to all who helped. This is one for the books!