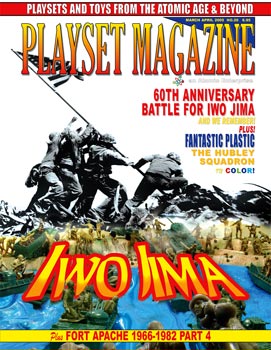 Issue 20 is our 60th Anniversary of the Battle for Iwo Jima.

We remember and take a look how this historical battle was
portrayed by the Louis Marx Toy Company.

We'll also visit Banner Plastic Corporation's Mobile Defense Convoy

Part 4 of the Fort Apache Saga, covering the years 1966 thru 1982

Reviews of CTS' North and South Playset and 21st Century's Cold Steel WWII Vehicles

Introducing a new PM feature: DIO-DRAMA (featuring collectors' own toy soldier setups)

Of course, all our usual features are here.

We hope you are too!