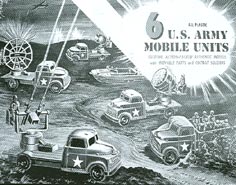 Enter into the Fantastic World of Hard Plastic with Pyro's military vehicles and playsets, including the set of 6 U.S. Army Mobile
Units pictured at left.
Dennis is filming on a Western Street when we meet him and you'll be there as he sees himself in miniature for the first time as part of the figures from the Marx playset. Our story is framed around the set as he sees it for the first time and is given a set of reproduction figures "on behalf of the hobby".


We've also cooked up some new product reviews, a few other stories and lots of ads to put your post-Christmas funds into.