PM 125 ON THE PRESSESS!

Lots of news this time folks! Following our towering Giant Iwo Jima Mountain story, we bring you the ripping Western Comanche Pass with bonus story, Ambush at Falling Rock. Casual collectors have long wondered the differences between these two sets, and this issue the hard-working Scott Canady and Glenn Ridenour bring all the details into the pure clear light of fact with some great photos, the boxes, instructions and details.

We're proud of these two fellows, Scott for being the driving force behind the complex interweavings of the Marx Giant Mountain theme, and to Glenn for his steadfast research and support bringing these stories to our pages. This has been an epic journey for everyone and we are drive forward to the last couple of sets – Prehistoric Mountain and the epic last set in the entire Marx venue, Deep Sea Adventure.

UH-OH -- A SELL-OUT

It was a story that many have watched with great interest, because it was a set that had never received complete coverage -- and the moment the Iwo Jima Mountain issue was released, single issue buyers came out of nowhere to make the issue an instant sell-out. There are now less than 20 factory fresh issues in the world. It will not be available as a "make-up" issue, and it's another reason that it is important to keep your subscriptions up to date!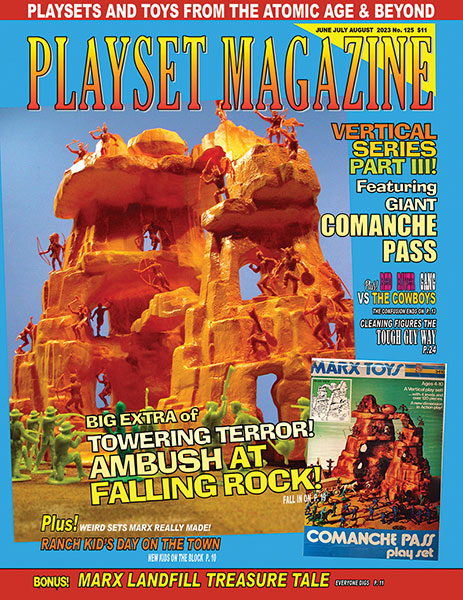 SPECIAL NOTE

I can already hear the phone calls coming --Before you say you didn't get a renewal card, or feel you were left out of the process, know this: Kath religiously sends them out. Every subscriber is sent a reminder card a month before they are due for renewal. If she hasn't heard from you, another card is sent.

WHEN DOES AN ISSUE BECOME A BACK ISSUE?

A reminder that all issues become back issues after they are sent in the new mass first class mailing. Know that if you miss an issue there is a chance it will sell out like 124 just did, or not be available.

Q: HEY -- I DIDN'T GET A RENEWAL REMINDER CARDS
A: Every subscriber is sent a reminder card just when you need it, a month ahead of time. It's part of our service to you. We take pride in doing it. NO ONE is left out ever. The card is sent without exception. Did it get mixed into a magazine you threw out? Or blown out of your postman's mail bag? Mmmm---maybe. But it was sent.

Plus you can always ask Mom -- each issue she's there to help you on our pages, and if the number on your copy's back cover label matches the number Mom shows you in her little notice, your subscription is "up".

When you need it, all the info you need to renew is always on our info page 4 of every issue.

ALSO THIS ISSUE: "Weird Sets Marx Really Made" is a very short series that long-time collector Brian Sketch sent to us, and we have high hopes that if any collectors have actually seen these sets or have them, they will let us know. First off, a large ad for a Western Town that actually shows it came with Marx rarity Ranch Kids! Cain't hardly get no better'n that!

We break for this announcement:
__________________________________________________________________________________________________

The Chicagoland Toy Soldier Show
Room trading from 9/21 to 9/23
When: Sunday, September 24, 2023

The details are in the issue as well as our news section on this website but let me recap it for you right here, right now: Taking place SEPTEMBER 24 the "The Chicagoland Toy Soldier Show" replaces OTSN. It will be held at the Schaumburg Marriott, a tower type hotel with easier access throughout room trading (what a relief!) -- 50 North Martingale Rd.

For rooms call the hotel (781) 321-8855 or email matt@hobbybunker.com. Or use the convenient link below:

BOOK YOUR ROOM HERE

Last Day to Book: Monday, August 28, 2023 Hotel(s) offering your special group rate: Chicago Marriott Schaumburg for $129 USD per night. Special room rate available Monday, September 18 - Monday, September 25, 2023
__________________________________________________________________________________________________

SECRET MEETING But that's not all. The cherry on top of the cake this issue is high adventure: We all know how secret the Marx cemetery of fallen toys is, way out there in the foggy, wet wilds of West Virginia. We've learned only a bit about the heroic efforts of "diggers" to recover and put into your collections the sometimes rarities this secret place reveals. For decades the people and place have been an honest-to-goodness, marvelous, juicy secret. Well get ready, it's all being revealed on September's pages!

This very issue, you'll enjoy taking a toy-top secret meeting with Johnny Allen and his cousin, Jake, who take us into and under the Marx graveyard of unsold toys… a dandy featurette about an awesome little establishment right outside the front doors Marx' playset factory Plant No. 2 in Glen Dale West Virginia.

We publish this as part of our commitment that you, dear readers, should know the place where playsets were made – know its employees -- so we take you to the Warsaw Tavern where those very employees gathered for decades to share a meal and discuss, among other things , the colors of figures and accessories (more on that in the story)…and now, the secret Marx Landfill. It's a treasure hunt to outdo all others, folks, and you can top it off with a 'Saw Burger and cold beer. Truly a summertime fun fest!

More show news this issue: Betty Ford and Rick Eber have sent brief Gettysburg and Florida Show pix, so you can finally get an idea of what those shows are like.

Then get a work out on us: "Cleaning Figures the Tough Guy Way" has some of the strongest solutions (no pun intended. Well, maybe..) as the cleaning column leaves the safe, comfortable 409 zone.

Two big stories are in this issue that we really should have run earlier, but the first one has such a close tie-in to our featured Comanche Pass story we wanted to publish the two of them in tandem. It's about those later dated Marx Storage Box Red River, Red River Gang, and "Fifty Cowboys" sets you have seen but didn't really have a good idea of exactly what went in them. Mike Handley and our old friend Eric Johns, founder of the Marx Wild West website, have sorted all this out for you in a brief but very smart take on those sets and their place in the Marx timeline.

Folks, all told, that's 6 NEW SETS that have never been covered in detail before: Comanche Pass, Amush at Falling Rock, Red River, Red River Gang and 50 Cowboys, plus the Ranch Kids Western Town.

Thank you as always for making us a part of your collecting days and nights of fun. We hope you enjoy this issue as much as we and our contributors have enjoyed bringing it to you.

Great Hunting this summer, folks!

Rusty and Kath