SPACE TAKES UP SPACE & NEW BOOK DEBUT!

--- Space Toys, that is! This issue we feature toys that were made not only by Marx, but other makers who made quality goods. But first, we feature the amazing Marx Space Ships -- which Marx called Futuristic Space Planes -- for some dazzling toy design and hard colored plastics! These gems are highly in demand, too, so now you'll know what all the excitement is about. I recall first seeing them while visiting space collector and Blast Off book author (Darkhorse, out of print) Mark Young's collection. They were so exciting, so dazzling, that I set off on a hunt for my own collection of these ships. Finally, at Kathy's request, here they are on the pages of PM!

MORE FEATURES

Another feature this issue, Space From Other Makers (Space Invasion) is filled with very cool hard plastic space ships from folks we rarely hear from. We could have called this feature -- "Space "For" Other Makers" instead, because as you know we've featured Marx almost every issue since our inception. But this time you'll see and be able to identify a bunch of other star-bound ships and figures which even includes a mint carded set from the Space Patrol TV program. Mike Poko and Jim Trever are our good friends here who supplied enough photos to spill over into another article -- easily.

CAPTAIN VIDEO

Also here, the famous and much loved TV pioneer, Captain Video, with the near-complete line of Humanoids, Interplanetary Space Men, aliens, big and small figures with incredible glossy and metallic plastics! These are a line we've never featured before but long had a personal love of.

The big centerspread story is the Superior Space Port, easily one of the most requested and desired of all the early space playsets.... with its outrageous walled space city, satellite launch tower, Space raid sirens and Radar Scope with moving images long before the batter-operated toys of Japan invaded our shores. This charming and incomparably interesting playset offers more aliens, brave spacemen defenders of the city, space ships and accessories (we love that Space Cannon housed in its own tin litho structure)! Here again, Jim Trever is the spaceman we relied upon, along with an assist or two from Kent Sprecher -- Thanks guys!

As our first all-space issue in awhile, we hope you enjoy this futuristic exploration of a super colorful past.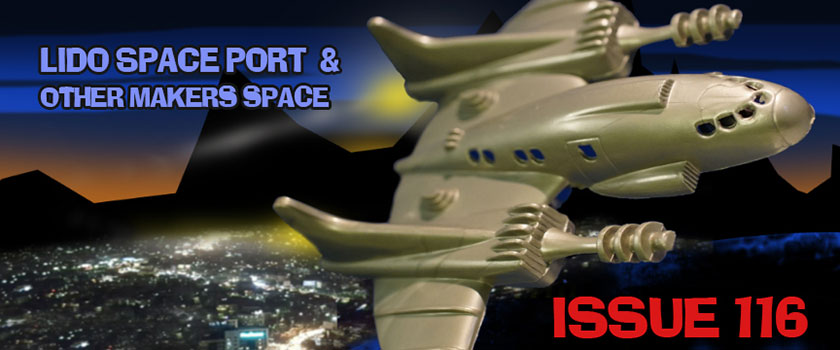 I want to say thank you to everyone for your understanding of the recent change here at PM, and to assure you of our sea-worthiness to proceed without interruption on this fantastic journey exploring the past with all you navigators of plastic.

NEW BATTLEGROUNDS II BOOK - Every Marx Playset 1964 - 1984
I also want to post this joyous news, since it took such a long time to get here. The new book, Battlegrounds II featuring every Marx WWII playset from 1964-1984, plus a very wide range of delectable collectibles of the combat toys eras, is done and has gone to press. We have accepted the proofs we received, the book has undergone round after round of vetting by the most knowledgeable collectors inn the world, and now the presses are rolling turing out a big supply of the books. There are over 600 color photos, graphics, B&W factory photos, instruction sheets and factory records contained in it, it is a thick book of over 200+ pages, and incorporates all-new text and photos for such sets as Iwo Jima, American patrol, Tank Battle, Desert Fox.
On the latter we want to officially recognize as authors and photos by a dynamic duo of Terrencio (Terry) Isbell and Eddie White, with back-up assistance by Doug Wood, on the Tank Battle / Desert Fox story. This covers the Sears Tank Battle playsets -- there are three main one knowns, but with the help of Glenn Ridenour we dug up a couple all-new surprises for you, like an unmade set and a new numbered set for which only a very few copies were made before production shut down. Is this one of your sets in your collection?
Eddie and Terry also cover the first Sears Desert Fox in Allstate carton, the Desert Fox sets of 1972 - 1975, and the rare Chocolate set! Know which year it's from? Find out all the details here!
Rick Eber is back as lead content authority for Marx Playsets of WWII and for many of the sets in the new book, perhaps most of them, we couldn't do it without him -- European Theater and Battleground Europe, American Patrol with all-updated fresh information, great assists on all the Desert Fox and Tank Battle set coverage, and Glenn Ridenour who delivers knock-out info on the mysterious 4757 Battleground, and all the rest including Navarone, History in the Pacific, the Giant Battleground of JC Penney and Wards Giant Battleground. My head is seriously swimming from all of it.
But that is not nearly all. Mark Hegeman brings a ton of exacting experience to a chapter of Warriors of WWII by Marx, with extensive, detailed, all-color photos on these great armies of the world in plastic, plus some very rare, incredible ads that are never before-seen; he joins Six Inch authority George "Demo Man" Kroll for a chapter on those fantastic, beloved 6" Army Men. If you are like me, you-will-not-believe the rarities and sets uncovered for their big full color debuts here!
So backing up the glamor Boys of Battle is a toughened and experienced crew of collectors. Yes, even behind the scenes we benefit from the top-of-the-line expertise of top flight scrappers with their special skills: the all-important vetting and correction efforts of Biff Smith with Paul Gruendler for vetting, proofing and pre-edits, and the indispensable Kent Sprecher for contents list and mold record vetting (visit Kent at toysoldierHQ.com). Our military armor questions of our Military Adviser Maj. Greg Liska (USA Ret) and Paul Gruendler (also USA Ret.) we asked them a lot of questions but probably not enough; for special contents Glenn pitched in, and it is all rounded up with the incredible stitching effort of our beautiful editor in chief, Kathy Kern, who made sure the tone of the book was consistent, readable, authoritative (if there was a question, she made sure it got checked and answered then double checked) and that the photos far outweigh the talk.

There are so many others to thank for their incredible help, dedicated expertise and consulting. Here's the whole big bad list of us:
MARX BATTLEGROUNDS II 1964 - 1984
Content Authorities & Vetting Rick EBER / Terry ISBELL / Mark HEGEMAN / ERIC KOOPMEINERS / George KROLL /
Glenn RIDENOUR / Eddie WHITE Factory Records Francis TURNER / Proofs & Pre Edit Biff SMITH / Paul GRUENDLER / DOUG WOOD
Additional Research & PL vetting Kent SPRECHER / Military Adviser MAJ. GREG LISKA (United States Army, RET).)
Editor KATHY KERN / Written & photographed by RUSTY KERN