ISSUE 114 RIDES SANTA'S SLEIGH

Hello and welcome to Holiday Time at Playset Magazine. Soon our tables will be laden with Thanksgiving dinner, our days filled with holiday shopping and then the great events of Christmas.

The new issue is already on the record books and will be shipped on schedule, as it has every year since 2001, if for no other reason than to spite those responsible for the terrible happenings at the Twin Towers with our own collective plastic military might! Now, 19 years later (in a month, it will be 20 years we've spent together!) we're still loaded with rare plastic treats and playset stories purveying just simply vintage heaven for our avid friends in plastic.

ISSUE 114

Playset Magazine is also looking at Christmastime with some very special news-- COMBAT AND BATTLEGROUNDS NEWS One year ago at this very time we announced the first volume in our Marx World War II book coverage, and that the way we are covering it, in minute detail and with all-new photos and text, we were going to have to do the story in two volumes if we were to do it well.

Now I am pleased to report that THE 2ND book on Marx World War II is approaching completion. It is filled with all-new coverage of Marx sets like Tank Battle, Desert Fox, History in the pacific, the inveterate 4757, Iwo Jima, Battleground Europe, the Battlegrounds of the mid-60's and 70's, plus chapters on the Marx weapons of 1964, Marx Warriors of the World and WWII, and more, all in there in copious detail with some great photography. Contributors include George Kroll, Mark Hegeman, Rick Eber, Eddie White and Terry Isbell with Doug Woods editing, Glenn Ridenour, Francis Turner, and others. Together, the two books will be an incredible resource of never before covered material on these incredible, sprawling, epic playsets, and it is nearing completion now. Soon it will enter the caring world of editors and proof masters who have bravely stepped forward to bring this battle to a close: Kathy Kern is lead editor, and battle hardened veterans Paul Gruendler and Biff Smith are already gearing up for the fight to the finish.

A HIGHWAY EPIC THIS ISSUE we have also tackled a tough project, so tough it required the likes of Ed Sponzilli, Rick Eber, documents master Francis Turner, Mike Poko and more to cover. It is a topic near and dear to every boy's heart: Gorgeous plastic Marx Trucks, where they came from, where they go to -- The Marx Trucking and Freight Terminals. You'll see all the Terminal playsets and many never before shown in this very complete coverage, with all those miniature brand name cartons, the crates and barrels, the ramps up and the cranes and tackle loading on, the incredible small boxes the friction trucks, and so much more. It's a completists' festive Bonanza and we trust you'll find everything in order, dressed up on these pages for your big Christmas parade dress review of plenty of incredible toys coming to life from the early to late fifties and beyond.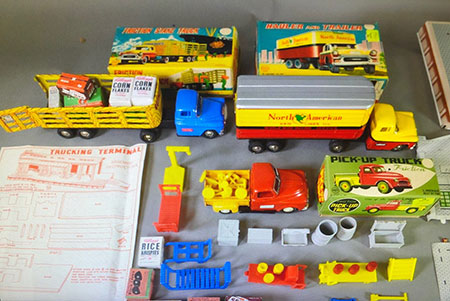 But what would dinner be if it was all a scrumptious turkey? We provide the trimmings too – a story on the Big Red Truck from Lafayette, stories on Marx Dimestore Trucks including the Marx Mayflower Moving Van, the Lafayette (Columbus) toy show review, a brand new My Side by Kathy featuring an awesome collecting room that is entirely built by one collector (and which will make an excellent model for any collector wishing to produce an environment for his own collection!) And there's a great Marx Memory from Scott Canady.

We hope you will "tune in" to the Chicago Virtual Show on the 26th – see the note and website info on the landing page here at PlaysetMagazine.com. As I write this I am trying to formulate our little presentation segment, and I hope you will join us between 5 and 6 PM this Saturday the 26th, or, through the miracle of video, anytime after that as we are told it will be on the Chicago Toy Show website.

How about a favorite beverage to enhance sitting back, reading the newest issue of PM, and accept our thanks for being the collector you are, and reading Playset Magazine in all its glossy page fun. Your fresh new edition of the Christmas Issue is wrapping up and will be on its way as always (need I remind we have never missed a deadline for these 19 years, thanks to the help of an enormous regiment of thoughtful, talented contributors and staff) shipping out like a good Navy man, on October 25th to doorsteps all over this great nation of ours!

Remember to Vote. 4 years ago, the vote was decided in some counties by less than a 100 people who felt the same way.

Then sit back and enjoy your freedoms of plastic, freedom to choose playsets, freedom to read what you like.


Thanks for making us a part of your collection and Merry Christmas to everyone!


Kathy & Rusty Kern Playset Magazine