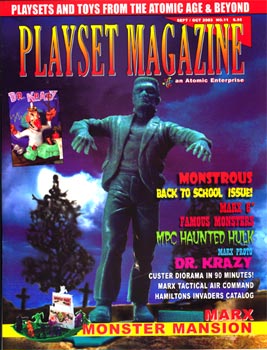 So get ready to visit Frankensteins Monster, the Creature, and more.

Then we complete a cycle of Marx Prototypes in this issue with Dr. Krazy,
nutty mad prototype, and the biggest and most anticipated of them all,
the Marx Haunted Mansion full color centerfold! Also:

Horrible Hamilton / Hamiltons Invaders catalog pages, a special AIP preview of the Arabs, PM Puzzler, MPC's Haunted Hulk, Marx TAC set plus the Build your own Diorama in 90 Minutes feature.

PM Delivers Monsters this month!


More

Don't miss another issue - subscribe today!