Hello and welcome to Holiday Time at Playset Magazine. Soon our tables will be laden with Thanksgiving dinner, our days filled with holiday shopping and then the great events of Christmas. We have seen previews of the new movie, "Midway" and heard excited collectors at the Chicago Toy Show discussing the new World War II movie. I have to say we are excited too, and hope it is done with a little old-school storytelling and action.

The new issue is already on the presses and will ship on schedule, as it has every year since 2001 loaded with rare plastic treats and playset stories and vintage heaven for our avid friends in plastic.

COMBAT AND BATTLEGROUNDS NEWS

Readers will enjoy seeing a "one and only" rare Combat Training Center set with a street front of tin litho glory, bringing in a selection of early Battleground style plastic to herald the release of our new "Marx Battlegrounds and Combat Sets " book, covering all the Marx WWII sets from 1958 to 1963. We realized half way through that the awesome content material was filling a lot more pages -- more than ever before -- and that we were going to have to release two books in order to cover the subject as thoroughly as we have been accustomed to doing with the Alamo, Civil War and Fort Apache playset books. But yes, the book is an incredible resource, and in its final stages now. We are in a race to meet our self-imposed but stated-in-print deadline of December 1st. Because Christmas and the Marx Battlegrounds is almost synonymous with each other! Together these sets represent millions of holiday morning spent with parents, playset time friends, and hours and hours of quality enjoyment with our vintage collectibles.

The Battleground & Combat Sets book is so overloaded with photos, mint contents lists, boxes, instruction sheets, factory records and big two page photo spreads that most every specialist in the field has been devoting time to getting it done for you. And yes, it's pulled in all your favorites and a few more too. We are most grateful to them including the indefatigable Rick Eber, Francis Turner, Ron Angleton, George Kroll, Paul Gruendler, with special content assists by the great Glenn Ridenour, David Schafer, because as we say, this giant compendium -- a first time ever resource in never-before-revealed-detail and glorious full color -- is getting loaded onto the presses as we speak and will be available to ship December 1st as promised. The price is looking to be the same as all the others in our lineup, $59.95 and $39.95 for the soft cover.

And while I am at it, the new versions of Marx Toy Kings, Volumes 1 & 11 are now freshly printed and also ready. Cartons of them are on hand -- Both these volumes have updates and are now with their bright new integrated covers (the more expensive editions had dust jackets) but it saves quite a lot of money and you, the vintage plastics connoisseur, reap the benefit. These books, instead of being $79.95 and $59.95, are now $59.95 and $39.95 respectively for the hard cover and soft cover, and bonus! They fit perfectly with the other four books in our ever-expanding Marx lineup. What a library you'll have with all these books on your new, dedicated-to-playsets shelf!

MORE

This issue, Playset Magazine is also looking at Christmastime with some very special news, new finds, a story featuring Marx Disneyland playset vintage ads, the Tomorrowland origins exclusive to Marx, some gorgeous Dew Line toys and Eskimos and Arctic Expedition (because its cold outside!)in plastic with awesome cartons; and of course more just as the snow is beginning to fall.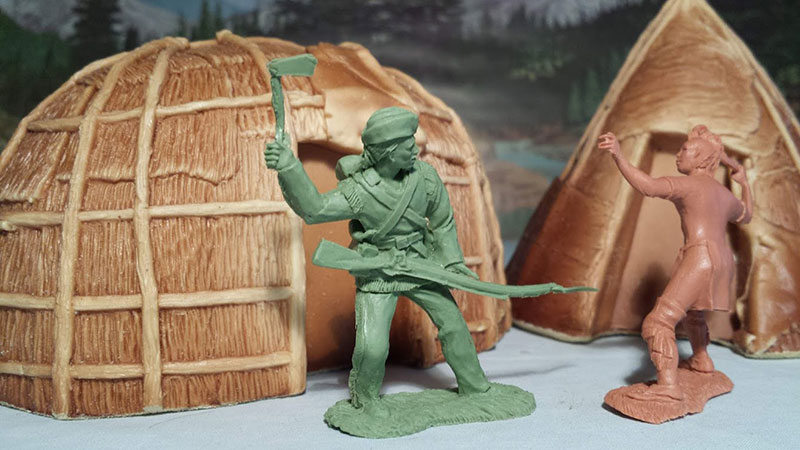 BARZSO PLAYSETS NEWS
And that can only mean that it's time for The Barzso Playset story to begin, with the first chapter beginning this issue. In it writer collector Len Hardt examines the early days of Ron Barzso's playset making efforts, a story we have been asked for over and over again. "Tell it now, while the information is still out there!" people said.
Well I have to tell you, the information was out there but it was more difficult to acquire than you'd ever believe, and Len has done an outstanding job. But once again, as the pages began to come in, there were 100's of photos and a wealth of incredible detail, such that the story would have continued, issue after issue.
We felt -- and made the decision along with Ron himself and Len Hardt -- that this is a story that could fill a book, and so it will! All the information will be available in one place as an easy reference, and that the sheer entertainment of the incredible story on man's revival of the classic playset can be read uninterrupted. An effort, by the way, that is now two years in the making. So, this issue we bring you the first part. And then, the book. You are hearing it first right here -- the Barzso Playsets Story (including many fantastic foundational elements created by our own Jim Clouse, PM webmaster!) will become a brand new book and Ron has said he will be glad to sign your copies at a special book signing at the Chicago Show, along with Len and your humble editors, September 2020.

Please grab your very favorite beverage, sit back, and accept our thanks for being the collector you are, and reading Playset Magazine in all its glossy page fun.

Your fresh new edition of the Christmas Issue is on the way!

Thanks for making us a part of your collection and Merry Christmas to everyone!
Kathy & Rusty Kern Playset Magazine