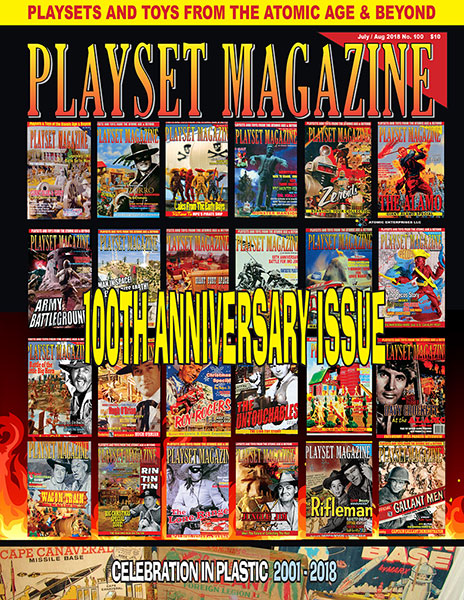 I remember we used to think what such a thing would be like, having our little publication reach 100 issues. How could you make such a thing special? There are so many issues I want to do that I thought we would have done by now – so much to catch up on! During the last 16 years of service to the hobby, we tried to set aside a few special stories as they came in; items that seemed relevant somehow to the idea of a hobby that continues to grow with new faces and collections.

So we have turned to the origins of things. With PM100 you'll hear the war drums beating; hear from some special surprise contributors and visit the world's first Playset Toy Show. You'll learn the detailed inside story of a facet of Louis Marx & Co. you never heard before and marvel at a gorgeous Marx centerspread Marx playset you have never seen, done in a unique way in the 60's. And if you are like us, you'll be tendering your chances of getting one too!

There's a myriad of opinions about where the hobby is going; we'll add ours to the mix and hear from your friends and fellow collectors as to what they think. And there's a special BIG My Side about the two boys who searched for (and found!) their Wards Giant Battleground as young men, proving Giants Roamed the Earth back in the 60's. This is a grand, gi-normous 100th celebration which we hope you love. Next issue its back to our regular format so don't fret!
I have been asked, and can tell you that one of the things I am proudest of is that in the 100 issues we have prepared for our collecting fraternity, never once was an issue shipped late, never once did it go to press late. It's always been sent to on the 25th (of the month) or so, even as our various printers have labored hard to get them out on time for you. And Kath, she says she's proudest of you, our readers, for your support, your interest, your stories and your photos.

I second that. A special thanks right now to our wonderful staff contributors content advisers and advertisers, for making quality goods available on a reasonable basis to you, the reader.

Now then, let the darkness fall as we step into our shared past and remember, and celebrate.

Thank you so kindly for being PMers!