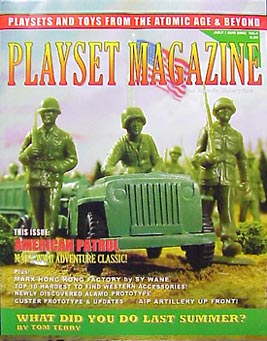 Featuring complete coverage of a Marx WWII Adventure Classic:
American Patrol, with elusive Exploding Building!

Plus a Marx Alamo prototype set, Zvezda Ancients Invade, and Custer prototype.

EXCLUSIVE first photos from inside the Marx Hong Kong Factory by Sy Wane, the first article from a Marx Man (VP of Louis Marx & Co. )

PM Puzzler by Tom Stark, Marx Memories, Marx on the Internet and more! As always our VIP panel made up of former Marx employees answers your questions and there's plenty of great items offered for sale by our advertisers.

Don't miss another issue - subscribe today!