New book now available!

BARZSO PLAYSETS:
THE OFFICIAL AUTHORIZED GUIDE

Observe as every precise detail is vividly captured! Never before have the incredible Barzso playsets been so richly documented with the official endorsement and authorization of Barzso Playsets, Inc. and Ron Barzso, given only after careful personal review and input. See Barzso's French & Indian Wars, Castle Sets, WWII, Battle of Churubusco, Braddock's Defeat, Robin Hood, the Revolutionary War's exciting Lexington Green and Battle of Yorktown, Davy Crockett forts and Daniel Boone's Boonesborough, plus rarities, the Abbey, blockhouses & all the rest brought excitingly to life.

• 650 + FULL COLOR PHOTOS
• BIG 2 PAGE SPREADS!
• VINTAGE PHOTOS & ADS
• INCLUDES 1-SHOTS & RARITIES
• EVERY SET, FIGURE, ACCESSORY & RARITY
• MINT CONTENTS for EVERY SET


I can't tell you how many times folks asked for this. Ron Barzso is not only a founding member of the fraternity of plastic toy soldier and atomic-era collectors but in semi-retirement, he has left an incredible legacy of new playset discoveries for us to enjoy.
His sets are simply loaded with awesome accessories and an unbelievable collection of buildings, huts, cliffs, hills, and structures. To make them, he had to introduce a new way of manufacturing into the hobby. Even if you never collected the works of Ron Barzso, he had an impact on this hobby. Even as a die-hard Marx collector, the details and exciting "stories" his playsets convinced us of the need for a book that would completely detail these incredible works.

ENTER LEN HARDT

Collector Len Hardt had every set Ron made, and being a teacher, he's also a very good writer. He began a complete record of, every set, every figure, every accessory, putting his scholarly skills to work. Len spent nearly two years writing and photographing the Barzso story -- and then came more than four months that he and his wife Colleen cheerfully supplied additional photos and text during the design phase. Playset Magazine originally committed to present Barzso Playsets as a series. But as the articles began arriving, the sheer volume of information and photos became epic.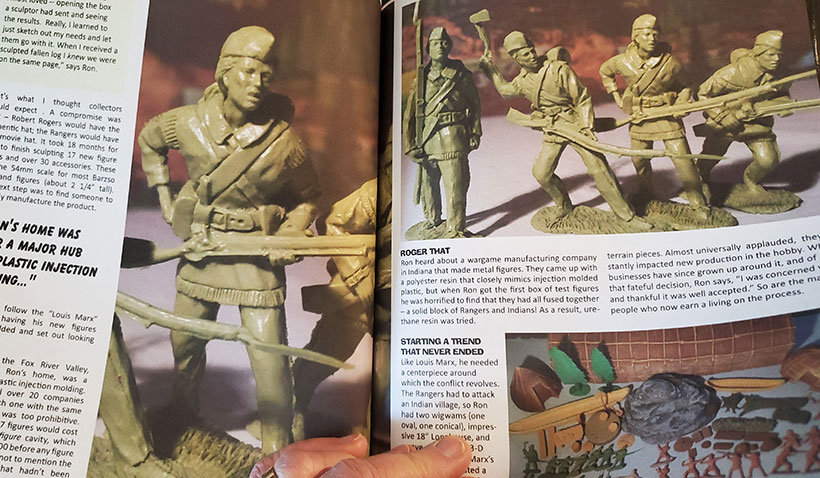 SOMETHING MORE

Something bigger was needed to tell the story. All of met together at the (most recent) Chicago Toy Soldier Show in 2019 and decided that a book might better serve the collector -- a thorough, unrushed archive of everything Ron had done.

PAST AND PRESENT

And here it is, a year later: Each Barzso playset plucked at its ripest moment of issue, in mint condition, preserved here for all time. Each carefully observed set is mint in box, in photos and text. Ron himself came on board to consult, assuring that every detail is exactly correct.

We hesitantly added our photos taken since Ron's playset inception; and sidebars, notes, and design. Then everyone piled on seemingly endlessly, until the story, photos, and text was shaped to perfection. Actually, with both Ron and Len being teachers, you can imagine how thoroughly all this has been accomplished. We were even helped by premiere artists Jim Clouse & Ron Lizorty in the quest to depict all the sparkling detail, lists, photos, history and personalities that make this our largest book to date.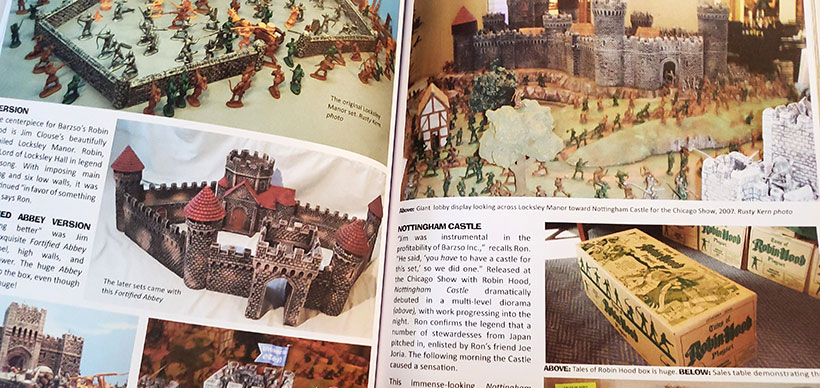 Whether you collect playsets, or buy or sell them, you'll find this a rich, fantastically detailed guide with easy-to-find contents lists and descriptions to every Barzso Playsets, with our grateful thanks to Ron, Len, Colleen, and to you.

The books are the same dimensions as our others published by Atomic, so it fits right in with the growing library of knowledge about the hobby. Many times we've been asked, "How do we preserve the fun and history?" This friends, is our answer. A growing library of fun and information from expert and informed sources, beautiful photographs from the hobby's most respected and best toy photographers in the world, these are the collected knowledge of an entire hobby, colorfully bound and dynamically presented in a fresh, affordable and enjoyably easy-to-research way.

Hard Cover $59.95 and Soft Cover $49.95 + $6.95 Shipping (Order with Secure PayPal below), or

CONTACT US.