Despite months of work by staff, writers and photographers, and really endless checking, the printer dropped a photo related to our review of this excelent new playset. And not just any photo -- it was Toy Soldiers of San Diego Toy Soldier's new Russians. So we present to you some fresh only-on-this-website color review photos to sort of make-up for it.


-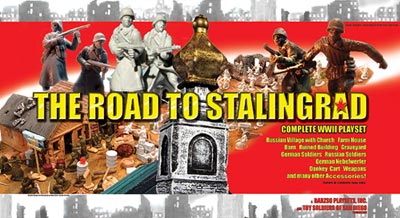 The box top has this very colorful illustration. The box measures a solid 22" long, and is deep enough to hold a church, farm house, the rustic barn, and a beautiful rural Russian church with separate bell tower topped by golden steeple charactisic of the Steppes.
-
-

Here are the Russians, you get several sets of 16 in 8 poses in Green. Poses are shown left to right: Charging, throwing Molotov; female sniper; standing firing; w/ machine gun; kneeling wounded; and crouched firing.Their enemy are the TSSD Winter Germans shown last issue come in NEW "Marx-like" light and dark gray. There are nearly 100 Figures included!
-
-

Among many new and exciting accessories are the new six barreled German Nebelwerfer, that fired explosive ammunition, gas cannister, and rockets. It is shown with one of the Germans in new light gray. In back there you can see the new Farm House from the front, and just a portion of the barn and a few of the cool new German Accessories like crates. There are more than 40 such items in the set!
-
-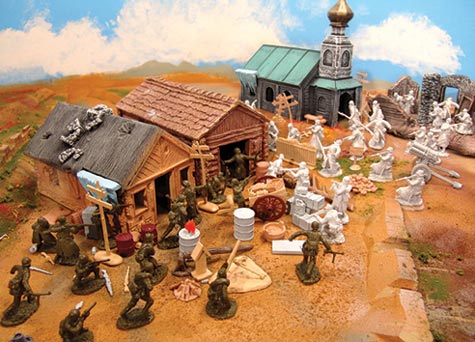 Here's a view of a portion of the street; just a portion of the set shown. We don't want to ruin the surprises inside! The set depicts a rural setting, as though Russians are fighting a rear-guard defense somewhere before the Germans made it to Stalingrad. Everything comes nicely bagged... we haven't seen the bags yet, but they are colorful we understand.
-
-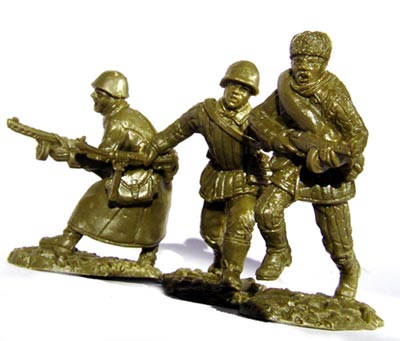 The new Ruined Building is a very cool Barzso piece. It gets a separate chimney, and is made with tank tracks on the floor and much debris. By the way, all the buildings are scaled perfectly to the figures, so the shooting guys work well in doorways and windows and such.
As you can see, the printer's omission does not diminish the excellence and excitement of this set. Congratulations to Nick and DeAnna of TSSD and to Ron and Marryanne Barzso on the completion of their distinuguished new Road To Stalingrad.The full set is priced at $240, about the cost of the buildings and figures alone and there are many, many extras and accessoires included. The way the two partners who made it have it worked out, you can buy the whole set from either company, or individual figure sets and accessories from their respective makers. Buildings from Barzso, for instance, and the figures from TSSD.
Here are their contacts:
Toy Soldiers of San Diego (760) 723- 6583
www.sdsoldiers.com
or Barzso Playsets (630) 690-7608 www.Barzso.com